July 31, 2012
RESIDENTS ASKED TO SHARE THEIR GRADENS WITH WOULDBE GROWERS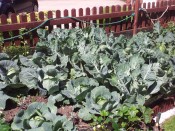 Are you struggling to cope with your garden or know somebody else who is?
Landshare brings together people who have a passion for home-grown food, connecting those who have land to share with those who need land for cultivating food. Since its launch through River Cottage in 2009 it has grown into a thriving community of more than 55,000 growers, sharers and helpers.
It's for people who:
Want to grow their own fruit and veg but don't have anywhere to do it
Have a spare bit of land they're prepared to share
Can help in some way – from sharing knowledge and lending tools to helping out on the plot itself
Support the idea of freeing up more land for growing
Are already growing and want to join in the community
There is a demand for community growing in Hull so any help you can give would give would benefit the community. If you are interested you can register your details on the landshare website.
www.landshare.net/search/hull/ or please contact your local Area Team on telephone telephone 300300 who will be happy to help you.
Hull City Council are currently working in partnership with Environmental Management Solutions ltd to identify areas of suitable land to develop for community growing, and bids have been placed with the Lottery and other funding organisations.
If you would like more information on this please log onto the website www.emsyorkshire.co.uk