October 26, 2012
PARK AREA CELEBRATES ANOTHER FINE CROP OF GARDENING TALENT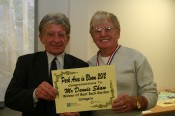 Keen gardeners in the East Hull Ward of Park are celebrating another fantastic flower flourishing year both in the local Park competition and Hull in Bloom 2012 despite the poor summer weather.
Park had 31 "Bloomers" enter for the 2012 competition and an awards night hosted by local charity Environmental & Management Solutions (EMS) Ltd who run the competition at the Freedom Centre which was this year sponsored by Park Area Ward Councillors, on Wednesday 12 October.
John Parkes from Springdale Close won in Park Area and came second Hull in Bloom for his front garden award, whilst pupils and staff at Gillshill Primary School once again picked up area and city titles in the school category, with Marfleet Primary coming third.
Other success stories at Hull in Bloom include Margaret Cundill who came third for her back garden. With 8 other Park contestants receiving Highly Commended certificates.
Jan Boyd Chief Executive of EMS Ltd said "We had a great night and residents received certificates and medals in a number of categories."
"We've become very proud of our devout gardeners but I'm particularly thrilled for Dennis Shaw and Denis Appleby winning the Hull prize in their categories for the third year running. We're the best–supported In Bloom area in the city but I'd love to see more people and businesses becoming involved in the 2013 contest and make it an even better year."