October 8, 2010
JAN BOYD REFLECTS ON A BUMMPER CROP OF PARK AREA IN BLOOM ENTRANTS IN 2010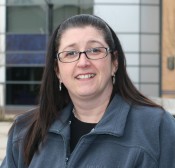 It is so heartening to see the level of enthusiasm towards improving the community as shown by this year's Park Area in Bloom competition. From the east of the city, this gardening challenge has boasted three city winners and more entries into the local heat than anywhere else in Hull.
Take the winner of the best front garden competition. John Parks clearly shows a passion for his hobby and he was encouraged to enter Park Area in Bloom a few years ago, spurred on by his late mum Gwen, who saw him win the local competition for the last three years but not be crowned city champion in 2010. The retired joiner has invested tremendous effort into planting displays and hanging baskets, and has even managed to harvest a crop of grapes in his back garden on Springdale Close. It was the sign that tickled me above his front door…."The weeds were winning until I started gardening"!
I started my involvement with the Bloom competition in 2004 as part the work with the Preston Road Neighbourhood Development Company. We had a handful of entries. We then started running Park Area heats with the Council. Now the campaign is organised by EMS Yorkshire, a social enterprise running neighbourhood management, with the support of Gateway, Hull City Council's neighbourhood regeneration programme.
Admittedly, many of the entrants are retired but there is hope in the younger generation with keen input from Estcourt, Marfleet and Gillshill Schools. At EMS, we did recognise that some people would not wish to put themselves through the daunting process of Hull in Bloom, so we devised the Doorstep Challenge. It was a simple competition to challenge people to improve their front gardens, with the incentive of a free hanging basket to start them off, and a carrot of £100 in Morrisons vouchers for the winner.
Here, we came across great enthusiasm, and a younger breed of entrant, including pupils from Southcoates School. The winner, Diane Dabdoub, was keen on maintaining her rather large garden in Pembroke Grove until some roses, an heirloom from her grandmother, were removed by accident in a garden tidy-up project. She lost heart and only started making the effort again when the Council sent warning letters about the state of her garden. She won the EMS Yorkshire Doorstep Challenge competition in 2010, and now basks in the positive feedback from passersby for the big improvements she had enjoyed making.
We celebrate the Park Area's achievements in 2010 with a ceremony this coming week, due to be attended by more than 90 people, in an area not renowned for its affluence, but is now gaining an increasing reputation for green-fingered enthusiasm.
Jan Boyd, Chief Executive of EMS Yorkshire, a charity and social enterprise which runs neighbourhood management and community safety initiatives in the Park Area of Hull. Tel: 01482 709810