August 1, 2013
FAMILY ACTIVITIES @ THE EAST HULL COMMUNITY FARM DURING AUGUST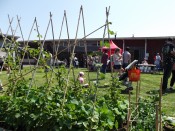 Green Prosperity are running a series of family activities and adult workshops at East Hull Community Farm over the summer. Please see below for the full programme. All these activities are completely FREE and all equipment will be provided.
Family Fun Sessions:
Tuesday 7th August 1.30pm –3.30pm: Super salads! Picking, tasting and planting activity.
Monday 12th August 10.30am—2.30pm: 5 Senses food and farm day.
Tuesday 13th August 1.30pm—4pm: Beneficial insects and building bug hotels.
Tuesday 20th August 1.30pm—4pm: Habitat and den building.
Wednesday 21st August 10.30am—12pm: Family walk and fruit foraging. 1.30pm—2.30pm: Preserving fruit, jam making demonstration.
Tuesday 27th August 1.30—4pm: Garden celebration and scarecrow making.
All children must be accompanied by an adult, and parents/carers are responsible for their child(ren) at all times.
Adult Workshops:
Monday 19th of August 12.30pm—4pm: Building planters from pallets—construct a small planter to take home and learn which fruit and vegetables are best for container growing.
Wednesday 28th August 1.30-3.30pm: Introduction to Seeds—Learn about how seeds work, the right methods and environments for planting different kinds of seeds, and how to save seeds in your own garden
Places available for anyone aged over 16. Space is limited, so book early to avoid
disappointment.
For further information on any of the above events and to book a place please contact Laura or Bryony on 782400 or Andy on 710177
or e-mail bmacfadyen@employmenthouse.org or andy.steele@freedomcentre.info