April 24, 2012
EMS LTD LAUNCH DOORSTEP CHALLENGE 2012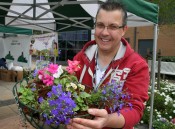 Residents in an East Hull community could win £50 this August just by brightening up their front or back gardens.
Environmental & Management Solutions (EMS) Ltd is a regional charity who offer's a range of environmental/green space services in the Hull area is running the competition for the third year to urge residents to bring some colour and interest to their doorsteps. EMS Ltd also oversees the hugely successful Park Area in Bloom but decided to run the Doorstep Challenge to encourage people working within a budget to improve their outdoor space.
The Challenge, which is supported by the local ward Councillors, is open to residents living in the Southcoates East area and runs throughout August. Organiser Andy Rees says: "A number of our past entrants have moved onto Park Area in Bloom so they have taken the challenge to new levels which is fantastic news. This competition enables residents to make even the smallest changes to their gardens as we take photographs at the beginning and end of August and judge on the differences. It is a really easy and free competition to enter."
All entrants will be invited to attend the Park Area Summer Celebration Event to be held at the Freedom Centre, Preston Road Village Centre, Hull, on October 10th.
Application forms are available from Andy Rees by calling 01482 709810, via Preston Road Customer Service Centre or the Freedom Centre, both located within the Preston Road Village Centre.
The competition comes as EMS Ltd has been given the go-ahead to start work on the Bricknell Ward Community Allotment in partnership with residents and Hull City Council. The charity is also developing a Community Garden across the road from its offices on Ryehill Grove which is being part-funded by Hull City Council's Park Area Team.
For further details, contact Andy Rees, Neighbourhood Manager, on 01482 709810, email info@emsyorkshire.co.uk, or visit www.emsyorkshire.co.uk.