September 22, 2010
DOORSTEP CHALLENGE WINNER ANNOUNCED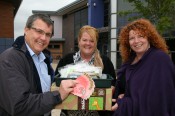 East Hull resident Mrs Diane Dabdoub had become so fed up with receiving Council letters calling on her to tidy up her front garden that she decided to make the effort in 2010, and won a competition.
Mother of two, Diane, 42, of Pembroke Grove, had lost heart in maintaining her large corner plot after workmen accidentally dug up some rosebushes, which were her grandmother's, about five years ago, as part of a garden improvement scheme. After becoming bored with the plain gravel, she spent the last three months doing up her garden with a range of plants, helped by her sons Andrew (17) and Lewis , 13. Her garden was noticed by Andrew Rees of East Hull-based neighbourhood management charity EMS Yorkshire, which has been running a doorstep challenge competition.
She won £100 in Morrison's vouchers, plus some garden equipment donated by Probe's Food 360 Project, which promotes grow-your-own produce.
Diane says: "I wanted to have a garden back and it's a big plot, so I decided to plant some colour. The buzz for me is that people come by and admire the garden and tell me how lovely it is. I've tried to do it as cheaply as possible, picking up plants at markets and on special offer to see what grows. I want to build and develop it more and hope to put a fountain in. It's been a team effort so the boys will get a treat."
Winning entry living on Pembroke Grove with her property surrounded by construction work but still trying to improve aesthetics. Please mention the £100 of Morrison's vouchers first prize donated by EMS and note that local businesses of The Co-operative and Food 360 have provided the runners up prizes (£20 from each business, which Robin at the Co-op will use to put a hamper together – wine, cheese, chocolates etc) Runners up prizes are for hard work put into gardens at their respective properties. Release must contain the comment "Doorstep Challenge, part of gateways neighbourhood management initiative for East Hull, delivered by EMS" as this is part of the SLA between Gateway and EMS.
Winner- Mrs. Dabdoub of Pembroke Grove Runners up- Mrs. Sue Holmes, Troutsdale Grove and Rosina Moment, St. John's Grove