April 30, 2010
COMPETITION TO MAKE EAST HULL BLOOM IN 2010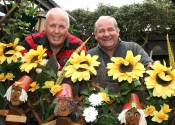 Residents and community groups in east Hull are being urged to shine, say it with flowers and bring some colour into the neighbourhood for this year's Park Area in Bloom. The charity EMS Yorkshire is running the competition for the first time, in conjunction with Hull City Council's Park Area Team and Gateway, the housing pathfinder for Hull. Park Area in Bloom is open to residents, businesses, community groups and schools and it is part of the overall citywide environmental challenge, Hull in Bloom.
Neighbours Ken Cromac from St John's Grove and Paul Lumley from Hilston Grove, Preston Road, were both winners last year, and they will be launching the 2010 competition. Newcomer Mr Lumley picked up the Park Area first-time entrant award while Mr Cromac won the full garden category. Another resident, Dennis Shaw from Arthur Lucan Close, went on to scoop the overall Hull in Bloom title for his rear garden.
Mr Cromac says: "Entering Park Area in Bloom has been a great success for me, Since I started in 2006, I've done incredibly well and it makes me want to do better each time I enter, not only with flowers but I recycle a lot of things. The other thing that happened is that it brought in my next-door neighbour as well. With my help, he moved 10 tons of rubbish buried under his soil and entered the competition. To his surprise, he won an award. Now we are very good friends and he's found a hobby he likes."
The categories are:
Best Displays by a public house, commercial organisation, community group, and school;
Best Front, Back or Full Garden; and Allotment Garden;
Best Planted Container or Hanging Basket;
Best Contribution to Wildlife.
The closing date is Friday 9 July and judging will take place the following week, with an awards ceremony at the Freedom Centre, Preston Road Village Centre, in mid-October. Park Area winners will also go forward to the citywide Hull in Bloom competition and the winners of this are announced on 16 September in a ceremony at the Guildhall.
EMS Chief Executive Jan Boyd says: "Looking after their garden is a real passion for a number of residents, but taking part in Park Area in Bloom is something that everyone could do. I'd really love to see many more businesses and community groups in the Park Area becoming involved. People don't have to spend a lot, it costs nothing to enter and colourful plants and flowers really lift the area."