November 9, 2009
Blooming Marvellous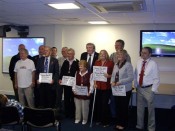 Hull in Bloom 2009
Another fruitful year of gardening accumulated in the Park Area in Bloom Awards Night 2009 held on Wednesday 28th October at the Freedom Centre, Preston Road Village Centre.
Not only had the Park Area had the highest number of entrants in the city but five were placed in the city-wide Hull in Bloom Competition with Park Area resident Dennis Shaw winning in the Back garden Category for the whole of the city. Dennis on the night was given a special award by Places for People as recognition for all of his hard work and 30 years of gardening.
A big thank you goes out to all who attended and here's to a bumper, blooming 2010.