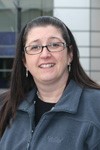 Jan Boyd – Chief Executive Officer
Jan is an exiled Sanddancer who has lived in East Yorkshire (via Ipswich) since 1996. Jan is the founder and Chief Executive of EMS Ltd and has over 20 years experience in the environmental management field. Jan is on the Board of Child Dynamix Ltd, East Hull Community Farm and Preston Road NDC Ltd all of these organisations are based within east Hull. Jan has lived in Cottingham since 1997 and has a pet cat (she is called) Keith. Jan is a season ticket holder at Newcastle United Football Club and has spent many frustrating hours on the terraces of St James' Park watching them underachieve.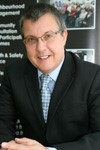 Andy Rees – Project Co-coordinator
Andy was born in South Wales half a century ago and moved to the East Riding in 1997 after a two and a half year stint in the lowlands of East Anglia. A keen football fan, Andy has watched and suffered the highs and lows of Middlesbrough Football Club since the early 1980's. Andy took time away from the workplace to care for his son from 1993 to 2001, filling his time by volunteering in a local primary school where he spent time coaching football and helping key stage one children attain their reading targets. Andy is married to Amy, his son Eddie is currently studying for his PhD at Teesside University and has two stepdaughters, Abi and Izzie.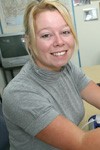 Rebecca Norman – Company Administrator
After leaving school she attended Riley College to study Performing Arts and passed the course, she then started a singing career on the circuit around East Yorkshire, during this time she also started volunteering at Preston Road NDC on Preston Road and became a part time Receptionist in 2000. In 2005 she started work as an Administration Assistant with the PRNDC funded Neighbourhood Management project and her role has progressed to Company Administrator for EMS Ltd in 2009. Rebecca has lived on the Preston Road Estate all her life and has worked within the area for 15 years, she is married to her "Part-time" husband Shaun who works away for 6 months of the year and they have three children Wyatt, Chase and Pru along with a dog called Peanut.
Nicolas Grant – Cook
Paul White – Cook