July 31, 2012
OPENING OF COMMUNITY GARDEN HOPES TO HELP RESDIENTS DEVELOP GREEN THUMBS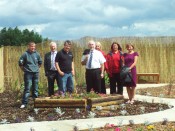 Residents of the Southcoates East ward in East Hull are invited to get involved in the recently opened Community Garden for the area. It's a brand new facility which is open to anyone who lives within the ward.
Learn new skills in a friendly environment
Get involved with your community
Enjoy the outdoors and get some exercise
Everyone welcome and no experience required
So join in and get growing!
Residents are welcome to bring any spare plants they have and put them into the garden, the more plants the merrier!
The garden was funded by the Southcoates East Ward Council and the land donated by Preston Road NDC Ltd. All design and development work was carried out by EMS Ltd in partnership with The East Hull Centre for Horticulture. Part of the garden will be turned into a demonstrator allotment site by Probe's Food 360 Project, with the aim of encouraging residents to grow their own produce.
Ward Councillor David Gemmell said at the opening. "The utilisation of a piece of waste land into this mini oasis has been a great project and Councillor Tom McVie and I were more than happy to fund it. Well done to all involved for implementing the seed through to fruition"
Andy Rees, Neighbourhood Manager for EMS Ltd said. "The development of the garden has been very much a partnership affair, with assistance coming from a number of organisations including, PRNDC, Hull City Council, Minerva, Morgan Sindall, Humberside Aggregates, Speedy Hire Grimsby Depot and particularly Simon Waudby, who volunteered endless hours to the garden."
The garden is located on Ryehill Grove opposite the side entrance to the Freedom Centre, next to the large car park. The garden will be open to residents on a daily basis (weekdays only).