March 21, 2013
GREEN PROSPERITY LAUNCH DAY ANNOUNCED!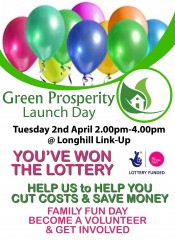 A double celebration for the Big Lottery funded Green Prosperity Project.
The project will hose two events on:
Tuseday 2nd April
Morning 10 – 12 at the Freedom Centre
Afternoon 2 – 4 at Longhill Link-up
The event will include:
Sporting Activities
Face Painting
Bouncy Castle
Energy Advice
Dog Chipping
An Eggloo
Gardening Advice
Prize Draws and Giveaways
All are welcome!