March 14, 2012
GOING GREEN TO HELP REDUCE ENERGY BILLS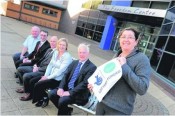 PEOPLE on Longhill estate will be encouraged to go green and cut energy bills with the help of a new Lottery-funded project.
East Hull-based charity, Environmental And Management Solutions (EMS) Ltd is leading the scheme to cut fuel poverty and help people become more energy efficient.
EMS will be working with Probe Ltd, Preston Road Neighbourhood Development Company (NDC) Ltd, Hull City Council, East Hull Community Farm, Hull College and KMS Ltd on the Communities Living Sustainably project.
It will see the group set up a green homecare initiative for vulnerable people and try to reduce food miles by urging residents to buy local produce and use their gardens to grow fruit and veg.
Jan Boyd, chief executive of EMS Ltd, said: "This is an exciting opportunity to work with residents and partners to promote green issues, help residents save money on energy bills and protect the environment."
The scheme is one of 30 across the country to be awarded £10,000 from the Big Lottery Fund.
It is part of a long-term Big Lottery scheme which aims to tackle fuel poverty, rising food prices and scarce resources by inspiring people to adapt the way they live and work to reap financial, environmental and health rewards.
Organisers will initially carry out an energy efficiency survey, host more sustainable community events and set up an environmental road show to develop the bid.
If successful in its initial stages, the partnership will then receive up to £1million to deliver its ideas over a five year period.
Geoff Groom, chief executive of Preston Road NDC Ltd, said: "The opportunities that this partnership affords for our communities to come together will make a big difference in reducing inequalities.
"We aim to make every penny count in inspiring residents and supporting them to make our city a model for sustainable communities everywhere."
Steve Alltoft, general manager of Probe Ltd, added: "The potential of this proposal to really make a difference to a whole range of people living in the areas covered is enormous and this combined with the green aims make it a real win-win situation.
"We need to secure the next stage and the partnership will be working hard over the coming weeks to try to do that."
The team will work in partnership with local people, schools, businesses and voluntary groups to draw up detailed plans on how their community can be greener.
The learning gained from the projects will be used to inform and influence others across the country.
Vanessa White, head of the Big Lottery Fund for Yorkshire and the Humber, said: "We want to support local communities to make greener choices to improve their quality of life and help them to become resilient to the changing environment."
A partnership led by Groundwork UK and including BRE, Federation of City Farms, Energy Savings Trust and nef has been appointed to deliver support, advice and guidance to help the community partnerships achieve their goals.